An exclusive cooperation agreement has been concluded between the Green Fund and Greco Law Company. It stipulates complete legal support for the interests of the public association, protection of the rights of its members and representation in courts. Also, according to the document, Greco Law Company acts as a legal advisor to the Green Fund.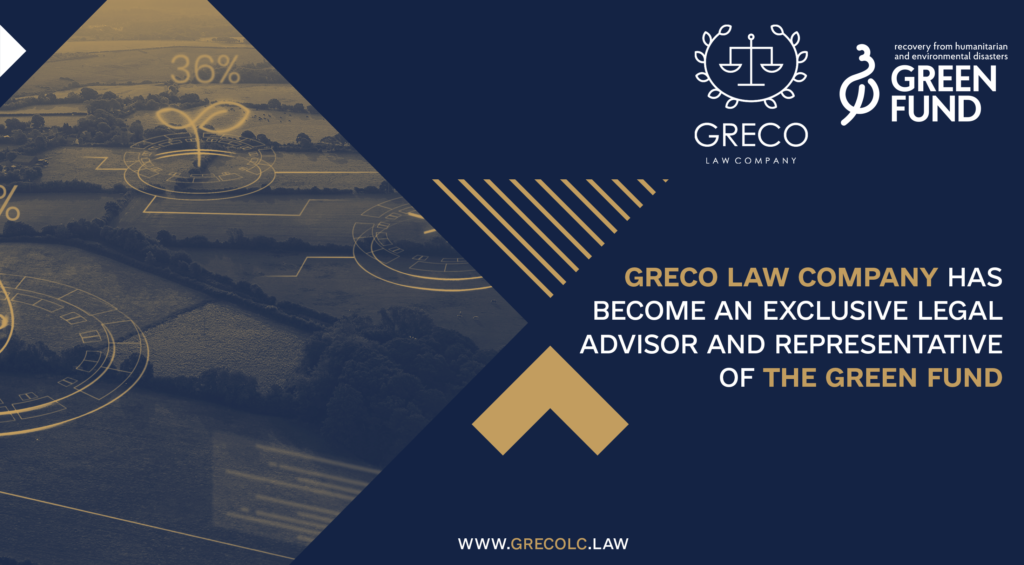 The corresponding document has been signed by the head of @Green Fund, Oleh Vernyk, and the partner of Greco Law Company, Oleh Shchelkunov (@Oleg Shchelkunov).
The objectives of the cooperation between Greco Law Company and the Green Fund are as follows:
protection of people affected by humanitarian and environmental disasters;
juridical assistance to temporarily displaced persons resulting from the military aggression of the russian federation;
protection of every person's right to a healthy environment;
environmental monitoring and cooperation with human rights advocacy groups and environmental organizations;
compensation for damages caused to the environment and people as a result of violation of environmental legislation, and restoration of the environment;
implementation of the environmental commitment;
practical implementation of the principles set forth in the Aarhus Convention.
"During its 6-year history, the Green Fund successfully implemented the first cases in the history of Ukraine regarding the practical application of the principles of the Aarhus Convention on the territory of Ukraine, and this resulted in a qualitative breakthrough in the right of the public to obtain real information about the environment, primarily in judicial practice. Owing to the online platform created by the Green Fund, any person received a simple and clear mechanism for submitting and receiving relevant environmental information from the competent authorities in accordance with the established procedure. Cooperation with the Greco Law Company team is significant for us. Since it was this team to successfully implement the first class action in the history of Ukraine, also dealing with environmental issues, which helped the residents of Vasylkiv, who suffered as a result of a fire at the oil depot in the village of Kriachky, Vasylkiv district, to receive pecuniary compensation for damages caused. Certainly, it is a logical step for us to join our efforts with the Greco Law Company team and strengthen the work within those areas that we have initiated", said Oleh Vernyk, the head of the Public Association "All-Ukrainian Organization "Green Fund. Overcoming Environmental and Humanitarian Disasters".
For his part, the partner of Greco Law Company, Oleh Shchelkunov, emphasized the importance of such cooperation.
"We are sure that cooperation with the Green Fund will afford us an opportunity to implement even more socially significant projects, both in terms of compensation for the damages caused as a result of the military aggression of the russian federation, and in relation to the violated right to a healthy environment. There is one more important area of focus we are working on –protection of the citizens of Ukraine who temporarily left its territory as a result of the launched military aggression", summarized Oleh Shchelkunov.